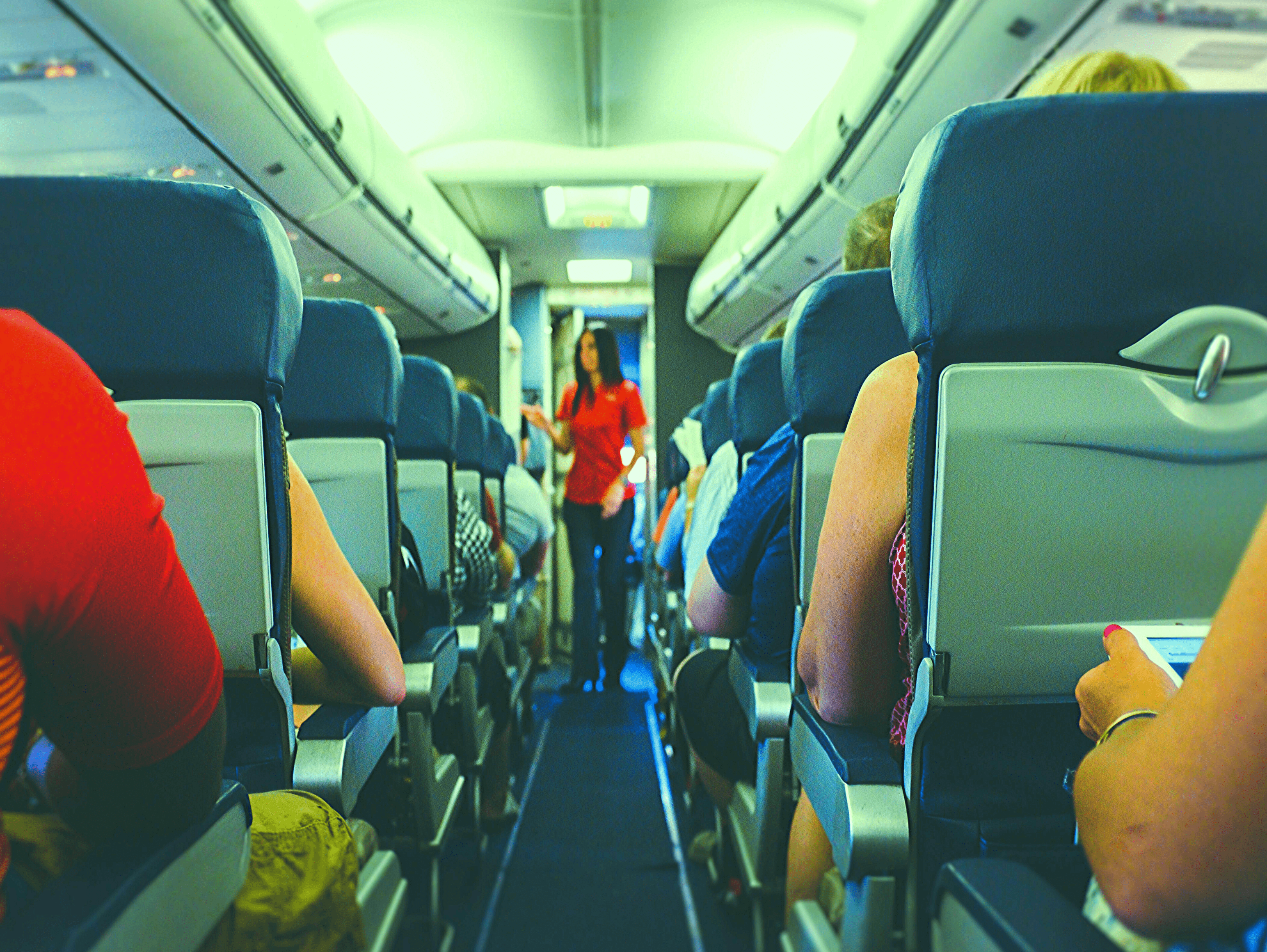 Raise your hand if you've taken a flight in economy class, and you had almost zero space to get comfortable.

Keep your hands raised if during one of those trips the person sitting in front of you reclined their seat with little regard to the cramped space you were already in.
We've all been there and to be honest, it's one of the worst places to be in besides an unnecessary meeting, the DMV, or rush hour traffic. Tell me I'm lying. I'll wait…

The pain and gain of reclining seats for airline passengers is a big topic. And, a conversation that should be taken seriously as a result of the recent viral video of a passenger punching the back of a woman's seat after she reclined. 

Each time I fly, I swear the seats are getting smaller and more uncomfortable. This is the reason why airlines should take a serious look at their policies and federal regulations. Both the pain and gain of all passengers reclining their airline seats are all on the airlines and here's why.
Pain: Is reclining your seat rude?
There are arguments on both sides of this debate. Travelers feel that not only is reclining your seat rude, but it's also forbidden. With the limited amount of space in basic economy and economy class, it's ridiculous to push your seat back in the face of another passenger. It's even sparked some heated arguments and altercations between airline passengers causing flights to divert temporarily to mediate the situation.
Gain: Do you have the right to recline your airplane seat?
At the same time, other travelers find it a useful feature and one that is rightfully their decision. If the airline promotes "Please sit back, relax, and enjoy your flight," then wouldn't it be only right to recline your seat? Some travelers think so and take full advantage of reclining, most times for the entire duration of their flight.

But, my thing is, if airlines would take these complaints and objections seriously, there wouldn't be arguments, altercations, and debates about whether reclining an airplane seat is wrong or right, or even rude or not. They need to be decisive about what is expected in the cabin, how passengers are to navigate these features and how to make everyone comfortable throughout the flight. Even if it means reverting back to wider and more spacious seats and fewer passengers.

I know this is all about money, but at the end of the day, airlines serve customers. Our comfort is not a bargaining chip. In fact, it's non-negotiable. Period.

Pain: How do I stop airplane seats from reclining?
Well, if you're trying to stop the person sitting in front of you from reclining, then don't use products like Knee Defender. It will be a fight or an argument waiting to happen.

The only way to legally stop airplane seats from reclining is when the Federal Aviation Administration updates and regulates non-reclining seats. Simple? Eh, well, the question is, do they want to. Their argument is that they regulate airlines for safety, not comfort. While this puts this discussion in perspective, it surely gives us insight into how the travel and airline industry operates and how we are the losers in the end. 
Christopher Elliot sums it perfectly, "The airline industry loves the seat reclining argument because it divides us. And while we're arguing about 2 inches of personal space, they're busy collecting more money from passengers and slowly – ever so slowly – removing even more room. This debate is the perfect distraction.
Whether you think reclining your airline seat is wrong or not, let's agree on one thing: Greedy airlines got us to this point. Fighting over the scraps of space won't fix it. If we ever needed thoughtful government regulation, maybe it is now."
So to answer your questions: It doesn't seem like in the near future that the government or the airlines take these complaints seriously. But, as we all know, they should and one day will regret that they didn't.

Gain: How can I make my airplane seat more comfortable?
This is a personal and subjective question because comfort could mean different things, right?

If you're tall, then legroom is a necessity.
If you're on the heavier side, then the size of the seat is important.
If you're (insert characteristic), then (insert word or phrase) is vital.

Comfort can come in many forms. For me, I would rather have space to lie back when I'm ready to sleep. Sleeping upright is super uncomfortable, and while some people can manage, my back starts to bother me. Then, I become cranky.

Can airlines appease all of these requests for comfort? Or, should passengers continue to find a way to get comfortable within the parameters and small space allotted for them?

Read: 10 ways to make your flight more comfortable 
Pain: How big are the airplane seats, really?
Reclining seats and airplane seat sizes go hand in hand. If there was more space to get comfortable, there will be minimal need to recline your seat. What do you think?

Whatever your thoughts are about the above statement, if you look at the last couple of years, you know that the FAA have drugged their feet when it comes to establishing a regulation about the minimum size of an airplane seat.

They've yet to respond to the requirements of the Seat Egress in Air Travel (SEAT) Act. which requires the FAA to define the minimum viable length, width, and pitch for airplane seats that all airlines would have to abide by. It comes as a question of safety and the ability for passengers to evacuate safely in case of an emergency. The FAA, since 2018, has made little progress to enact this rule. 

So here we are giving our money over to airlines who are not being held accountable for the misery and discomfort they've created for customers.

You see why the airlines are at fault and why they've created the pain and gain of reclining your seat.

Here are the exact dimensions for airplane seats by different carriers:

Gain: How do I survive an 8+ hour flight?
There's always that person who spends the entire flight with their seat reclined. The second the airplane is in the air, they flick back their seat and get comfortable as you moan with discomfort and a bit of frustration.

But, on the flip side, you may look back to see if the person behind you is in a pleasant mood. And, proceed to recline your seat a few inches. If there are no complaints, then you recline your seat a bit more. [This is how I politely recline my seat].

In the name of survival (because airlines don't seem to care about this debate), you have to do what you have to do to get comfortable and sleep for an 8+ hour flight.

We shouldn't spend our energy pinning the "to recline or not to recline" debate on each other, but the rightful parties that have put us in this predicament: the airlines.

If you have any complaints, check out Flyer Rights for more information.
Last Thoughts
This isn't solely a passenger vs passenger issue. It's an airline and FAA problem too. They have confined passengers to less than 36 inches of space to travel across the world.

And, if the only argument one can make to protestors of seat recliners is "Upgrade to business or first class," then you're also part of the problem. Throwing money at the airlines doesn't solve the immediate issue. It dismisses it altogether. It certainly doesn't take into account affordability, disability/ability, or even safety. 
Want more resources to travel better and smarter? Check out my Travel Planning Resource Guide.
Comments