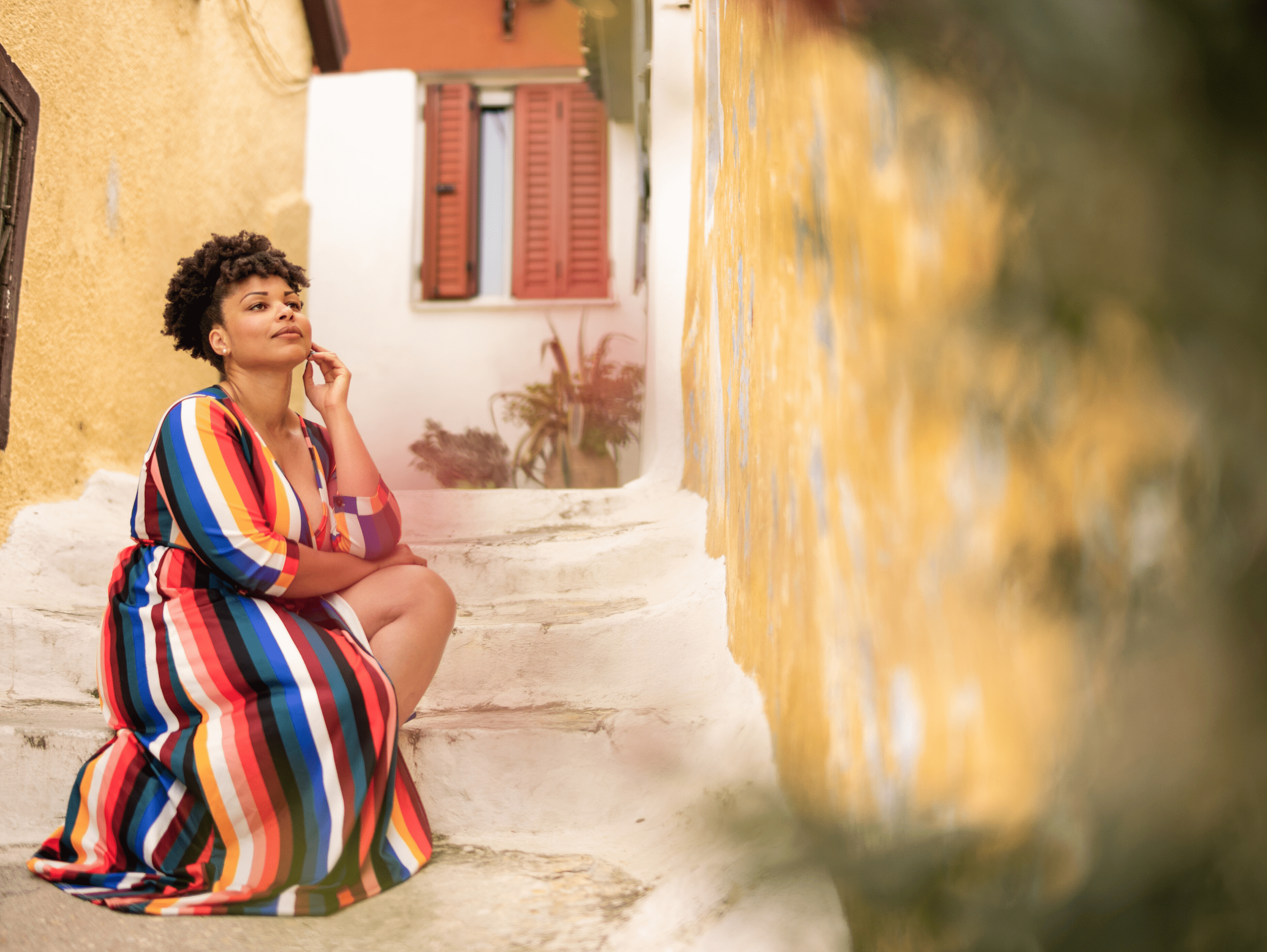 Is this you?
One day you put a message in the group text that says, "Hey, we should take a trip together!" Your group of friends that you've known for yearsss are all for it and begin to throw out possible destinations. 
They get enthusiastic about the places y'all could visit and how fun it would be to go together.
Miami!
Bali!
Jamaica!
Paris!
Or, Barcelona!
And, finally, y'all decide on a destination and everyone enthusiastically agrees. Now, the day comes to either purchase the plane ticket (a ticket for the low low) or put some money down for the trip.
One by one, people begin to drop out. Enthusiasm becomes excuses. Eagerness becomes procrastination. But you're determined to take this trip. If only you can convince at least one person…
Is this you?
Is solo traveling scary? Hell yes, but travelers like me have done it anyway.
You can think of all the things that can go wrong but imagine the beauty of discovering a place you've never been to before. Even though the butterflies in your stomach are fluttering so much, take a deep breath and read what I have to say.
Scared as Sh*t? Just Breathe
If your friends drop out and your group trip turns to a solo trip, don't worry. Go solo!
You've already put in the effort to corral your friends, choose a destination, look for flights, and create a preliminary itinerary. So, before you think about the actual trip, check-in with yourself and find out why you're fearful of this experience.
Are you afraid of being alone? [Check out my new post next week, "How to Fight the Fear of Loneliness while Traveling solo"]
Do you fear for your safety? Check out my safety tips here.
Are you new to traveling or traveling solo? Find more travel tips here.
Once you're aware of what is holding you back, you can address them. Tackle your fear with information, resources, and support from fellow travelers. Don't isolate yourself and create a bubble of fear, anxiety, and misinformation. And, definitely don't over-exaggerate what can happen (or not) or make yourself think that you won't enjoy yourself. Reach out to others who are and have been in your situation. Like me.
Ready for takeoff? I'm ready!
Now, if you followed my advice above then you've self-reflected and reached out regarding your fear. If not, please re-read the previous section. I encourage you to take the steps to overcome your fear.
If you're ready to stroll into 2020 not fearful of traveling solo, then read below.
Don't carry any extra baggage of worries, anxiety, and fear with you. Dump those emotions and instead plan out your outfits and all of your travel essentials. Redirect your negative thoughts on positive ones. Hype yourself up so you can to enjoy the moment and your upcoming adventure.
A mini solo travel checklist:
Pack your bags (don't forget your passport and travel documents)
Head to the airport.
Slide through security and take a seat at your gate.
Breathe when the gate agents start pre-boarding
Meditation is a great way of centering yourself and putting your nerves at ease. Create a playlist of your favorite songs that help you calm down. Or, "Netflix and chill" with yourself, by tapping the download feature on the app and binge-watch those shows that you have been meaning to catch up on. You're ready for takeoff!
Now that you've Landed
The plane begins its descent. It's all becoming real and it's only you and the bags you packed.
If you look around, you'll notice a few other people who are traveling alone too. Maybe this will comfort you to see others traveling solo just like you. When you exit the airport, the warm or cold air hits you as you walk out of the airport and onto your solo adventure.
Can you imagine making it this far? Yes, you can do it!
Upon your arrival to your hotel, ask questions especially if you're in a foreign country. It is always good to learn a few words or phrases to communicate what you need, want, and desire.
I challenge you to go straight to your hotel room, change into your bathing suit or fresh clothes, and scope out a spot on the beach or stroll the streets to take in the new city.
Personally, this moment is special because I get to look around and appreciate where I am. I remind myself that I'm somewhere different than I ever expected and my heart is filled with gratitude and appreciation. You'd also look inwardly and pat yourself on the back from preserving and overcoming the mental barriers that could've stopped you from taking such a trip.
If your greatest fear now is to meet people, then don't miss my new post next week.
Your Solo Adventure
Whatever your interests are, it is a good idea to create an itinerary for your trip. Note: For the purpose of this post, I will not discuss how to create your perfect itinerary.
But, basically, plan out your days in advance and loosen the grip on your fears. Whether you're spontaneous or a planner, your trip should be just fine.
It's best to consider your safety, and should always be a priority, but don't get so caught up in the details that you miss out on an adventure. Your adventure.
I'm not saying do something crazy or extreme, but maybe you can try something different like ziplining, skydiving, snorkeling, skiing, snowboarding or trying new foods and new dance moves.
Some destinations offer excursions, cooking lessons, and of course tours to popular tourist sceneries. Each of the offers above is usually done in groups so it could be an opportunity to meet new people. If this idea scares, don't worry about chatting it up with strangers. You can be off in your own world.
Solo Travel, Queen
After your first trip, you'll be itching to find another adventure and less fearful of traveling alone. I'm not saying that you'll be completely cured of your fear of traveling solo, but you will have experience under your belt. One solo trip becomes two, two becomes three, and three becomes a lifelong adventure of traveling solo. 
You have to break the ice somewhere.
Even if you plan another trip with the same group of friends and they pull the same stunt, it wouldn't even phase you. In fact, you might prefer going solo once you've gotten a taste of traveling alone. Regardless if your friends come through or not, check off the many boxes on your bucket list one trip at a time. 
Crown yourself now as a Solo Travel Queen (yess!!). And, an inspirational guide to another Queen who is met with the same situation. A good idea would be to document and share your experiences. Prove why fear will be a thing of the past once you get over the nervousness of your first solo trip.
Regardless if you're contemplating whether to go solo or not or sitting at the gate solo and you're double checking if you need to pick up any more necessities make sure you have your crown, Queen.
Are you ready to walk in your best life in 2020?
Comments