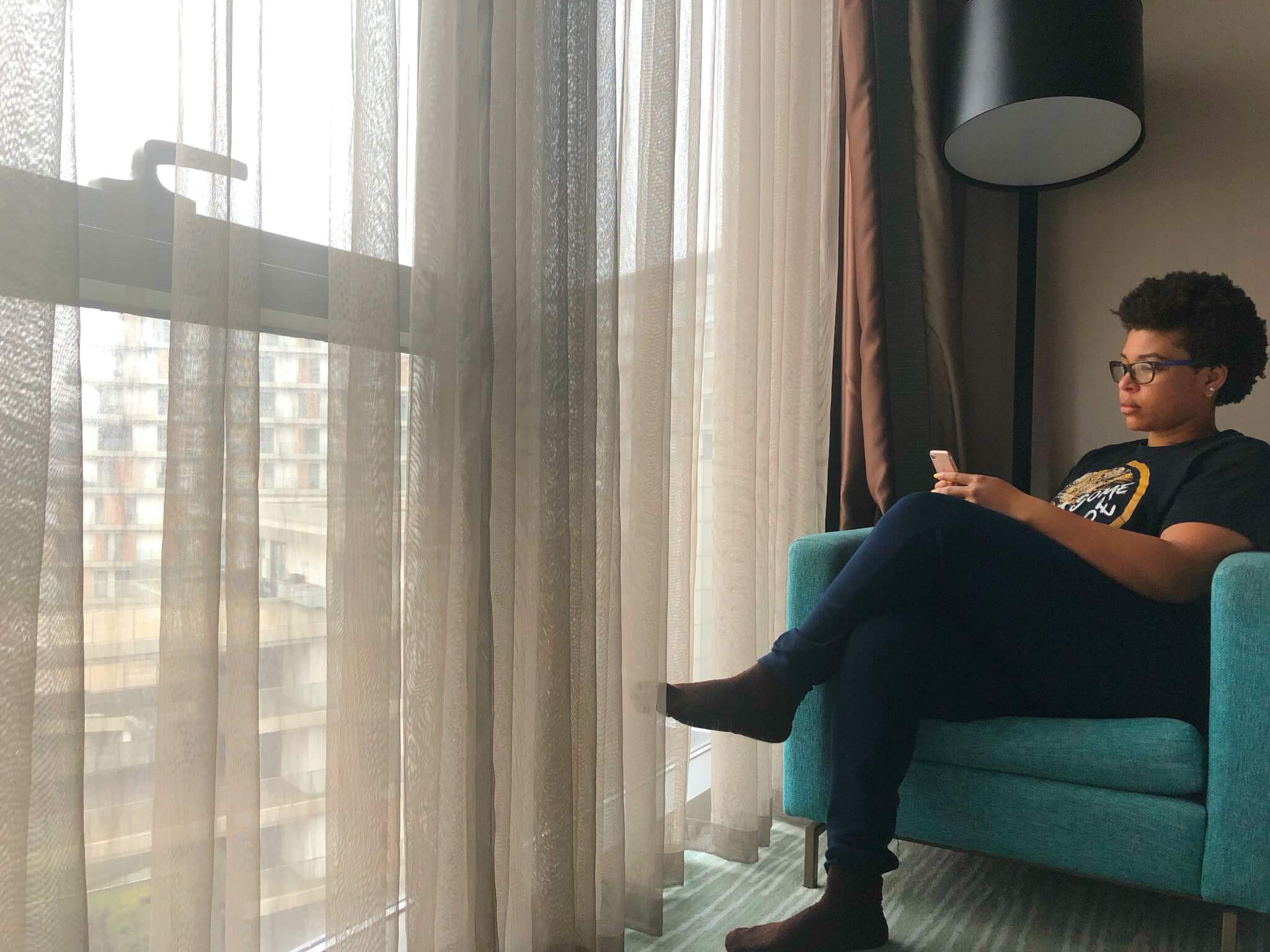 As I'm typing this, I'm sitting in Ataturk Airport in Istanbul. I'm on the last leg of my last international trip of the year and I wanted to address a commonly asked question: Do I get tired of traveling so much?
While I love experiencing new places, I've come to enjoy returning home just as much. I miss my dogs, my mom (who currently lives with me) and my bed. I miss the familiarity and routine that home brings.
Most times when I'm traveling, it's been a bit difficult adapting my routines to my travel schedule.
Meal planning and exercise are a big part of my life. But, I've been away from this part of my routine for about a month now.
Is that what life is about? Adapting and readjusting?
Sometimes it can be too much. But, before I end the year out, I want to share my thoughts from my trips this year. And, whether I get tired of traveling so much.
A simple answer won't be sufficient.
Beware: This is going to be a loonnng answer.
---
London & Amsterdam
At the end of last year and into the new year, my best friend and I decided to embark on our first trip together. I didn't know what to expect honestly.
We're a bit like oil and water but also like peanut butter and jelly. We are a weird, but complementary union.
I was nervous. The last time I did anything with a close friend, we ended up no longer friends.
So my hesitation stemmed from my past "hurt." Yet, we flew across the ocean to two new destinations!
First, Amsterdam.
Amsterdam was too cold! But, of course, I should've expected that when traveling there in winter. As Miami girls, we didn't know any better.
Regardless, we enjoyed our short two days in the country. Most memorable was our trip to the Anne Frank house.
It was a powerful moment. It was also hard, which is why I cried during my visit.
There was a moment that truly touched me. When walking in the room where the family hid, the floor creaked. Can you imagine having to hide somewhere and stay so quiet that even a mouse couldn't hear you?
The tears started. I couldn't stop them.
All I could think of is how they managed to stay hidden for as long as they did? Would they have survived if no one ratted them out?
I truly recommend a visit to the Anne Frank House. It isn't a time for a selfie or photo opp, but truly a moment of remembrance and appreciation for life.
Our next stop, London!
Here's a quick unedited version of my conversation with Nelda, my best friend of 16 years.
So Nelda's goal was to find Idris Elba, I was certainly on a quest to find a King. Well, a future king.
While our adventure didn't result in either of us accomplishing our goal, it was a much-needed "friendcation."
Most times we explored together. We also allowed each other space to go off on our own. While I participated in a free walking tour, she got to see the Queen's jewels.
Eleven days of travel was worth it! Together.
Germany
On my itinerary was Cologne, Augsburg, and Bamberg, cities I had never been to before. And an opportunity to visit three institutions offering study abroad programs for my students. If you don't know, I work in a study abroad office in the US. Fun!
What I didn't expect to deal with on the trip was a broken suitcase and getting lost.
Germany also served as a solo trip. As I made my way through the country mostly via train, I saw the country in a new light; as a true adult. My first time traveling there, I was a young, fearful 23-year-old graduate student living in Madrid.
Now, I'm a 30-year-old, full-time employee with a bit of life experience and perspective about the world.
I was pleasantly surprised at how much I've grown in several years.
Germany was a reminder that even going to the same places, you can have different experiences. At 23, the world was so new to me. Now, it's a field full of lessons that requires much more than curiosity. But, also respect, appreciation, and openness.
During my trip, I met colleagues for the first time, learned about the eccentricities of the German language, and gained first-hand experience of the colleges abroad. My students are counting on me. To be able to answer, which study abroad program could be the best fit for them.
Now that I'm thinking about it, Germany was much more than a business and solo trip. Figuratively, I stepped back into my 23-year-old self and conquered what challenged me in the past: traveling solo and navigating a city where I didn't know the native language (well).
Austria
You've ever traveled to a country or place without a clue of its history or what it's known for? That's Austria.
Austria was a quick day trip while on my business trip to Germany. While in Augsburg, I took a five-hour train to Salzburg; well worth the views of the beautiful landscape.
I'm a nature girl. Content with trees, mountains, sun, and grass. That's enough to take my breath away.
Once in Salzburg, a ten-minute walk will take you to Maribel Palace and Gardens, the location of the film, The Sound of Music.
"When the Lord closes a door, somewhere He opens a window."

– Maria Von Trapp
Mozart's Birthplace

Mirabel Palace and Gardens
I didn't have a goal or place to be. I just wandered until it was time to board my train back to Augsburg.
"Life is what happens to us while we are making other plans."

― Allen Saunders


Louisville, KY & Richmond, VA
I will group these two destinations together because: Football!
My team's season ended 4-4, with losses in these two cities. Yes, it's difficult traveling elsewhere to get beaten by your opponents. It's harder when your spirit is down and your body mirrors how you feel after a loss.
I'm grateful to experience new places in the midst of a team sport. Playing football is a lot like traveling. There will be challenges and successful moments. Still, it takes the right attitude to get through anything.
During the season, I knocked two more states off my bucket list and also met other talented women who love this sport as much as I do.
Philadelphia
I almost forgot to add Philly to my list. How can I overlook the city of brotherly love?
Each year, I attend the NAFSA National Conference where I and 14,000 other professionals meet to discuss improvements, issues, and opportunities within international education.
The day before the start of the conference, I reserved a free-walking tour around the city.
For two hours, our guide led us through small streets, churches attended by former presidents, and monuments as she explained the city known as the birthplace of the US.
The quick tour gave me insight into a city that celebrities like Will Smith, Eve, and Boyz II Men call home.
The remainder of the week included multiple meetings, presentations and sessions, happy hours, and parties; a time to reestablish a connection with longtime friends, former colleagues and new partnerships.
New Orleans
NOLA Essence Fest was the highlight of my summer. Woot! Woot!
Thanks to Girls Trip, my mom and I set on a road trip from South Carolina to Louisiana for the three-day festival. My brother's girlfriend joined as well.
I always loved New Orleans. The culture. The people. The pride. The flavor. The cuisine. Having traveled to NOLA three times before, I was ready to see the city light up with brown and black people swarming the streets.
I was most excited about seeing my favorite artists, such as Miguel, Janet Jackson, Lloyd, Queen Latifah, Mannie Fresh and many more.
Imagine a kid at Disney or at Hogwarts. Now, imagine me at Essence Fest.
Throughout the day, there were empowerment series and sessions focusing on voting, financial tools and competitions, health care, and beauty and hair.
I left with this message in mind: "Build up the community, one person at a time." Note: Interested in attending? Learn more with this beginner's guide.
So, of course, this adventure was well worth the drive and exhaustion.
Atlanta
I turned 30 this year. A milestone for most of us, I regained some peace and liberation being in a city that I once loved and traveled to frequently.
I attended the One Music Fest featuring artists such as Miguel, H.E.R., Monica, Big Boi, Crime Mob and so many more.
With family and friends to help me celebrate, my weekend in Atlanta topped all other birthdays before!
Black people, music, nature, and sweat. That's all I needed.
Memphis
Named after the ancient capital of Egypt, Memphis became the destination for this year's regional NAFSA conference for international educators in the southeastern region of the US.
Only a three-day conference, one of which I presented a session, I arrived early Sunday morning to have a free day to see "The Bluff City".
Not enough time to see all 60+ tourist sites, I opted for a few: The National Civil Rights Museum, Beale Street Historic District, Lorraine Hotel, and B.B. King's Blue's Club.
Memphis didn't seem like much but a quiet, beige and brown town (possibly because the conference was held a week before Thanksgiving).
I guess instead I should classify Memphis as a quiet, peaceful, and walkable city.
Staying in the famous Peabody Hotel, home of the marching ducks, I found a balance between sightseeing, conference-going, and the hotel service.
Listen!! I've never experienced such great and personal hotel service before. It was "Ms. Smith this" or "Yes, Ms. Smith." I just felt so fancy and appreciated.
Don't laugh because I'm new to this sort of travel life. I enjoyed as much of my room as the city. Cheers to you, Peabody!
Good food. Great People. Fantastic Hotel. Inspiring Historic Sites. I need a part two.
Barbados
Beautiful Barbados reminds me of home. (The last time I compared a new destination to home, I was homesick, culture shocked, and ready to return there only after two days).
Respectfully, I mean that Barbados was a piece of home that I truly missed. While living in South Carolina is a blessing, I really miss being around sand, sun, water, diverse people, languages and cuisines, and palm trees. Yes, I love palm trees!
But most of all, black people.
I booked another business trip this year to visit The University of the West Indies – Cave Hill Campus.
During what is known as "Preview Day" at colleges, a time for prospective students to learn more about the university, I interacted with students in the Chemistry and Biology, Robotics, Political Science and Meteorology faculties.
I later got to speak with a student who had studied abroad in Canada, and listen to how it impacted her studies and professional goals.
The next day, I plugged in a day for an island tour.
Riding around with a driver for a few hours, I learned about the island's history. Visited some of the well-known tourist spots suggested by members of various Facebook groups.
The last stop of the tour was my favorite, though. Rihanna's childhood home; now a landmark in the country.
Beautiful Barbados, I will be back.
Ecuador
Like Germany, I spent some time in Ecuador before. This time, though, I was traveling solo for business.
Immediately off the plane and through passport control, I hopped into a "taxi." I wasn't really sure who agreed to drive me, but it wasn't a taxi (at least not a marked one).
I'm not dead so I guess it was alright. His name was Luis. Spoke only Spanish which was good for me since I hadn't used the language consistently for some years.
Rusty and then corrected by Luis with my use of 'Venir', we headed off to Quito; a 45-minute drive and conversation about the city, country, and unfortunately the current US President.
How I didn't ask him to put me out and let me find another driver? I don't know. Maybe from jet lag and sleepiness, we continued toward my hotel. I was grateful though for his generosity. He agreed to drive me for the duration of my visit. He was sweet and willing to take me where I needed to go. (I was still uneasy about being in car with a stranger driving me around).
My visit, however, was solely to meet with colleagues at the University of San Francisco-Quito, the 30-year-old institution with over 100 international partners, including my college.
If you're ever in Quito, I would highly suggest a visit. It's magnificent (with emphasis on the "t").
Surrounded by the volcanos and mountains, you'll get a great view of the city. Really, I loved being in a Spanish-speaking country again. It brought back memories of a young girl rolling her "r's" and pursing her lips to form a word in this romance language.
Turkey
I spent about a day in Istanbul as a stopover via Turkish airlines.
To be honest, I don't even know what I pictured Turkey to be. I was amazed at the sights like the Blue Mosque and the Hagia Sophia. Thanks to my tour guide, Apo, he brought the history of this transcontinental country to life.
Blue Mosque

Hagia Sophia
Ever been on a blind date and been pleasantly surprised? Well, that's exactly what this felt like.
For a few hours, the tour guide led me across the Old City, explaining the long and prosperous history of the city. Too, I traveled via a ferry to its Asian side. Hitting both Europe and Asia in this one city has topped my list this year.
Most memorable (for a non-foodie) was the food. Eating cow intestines and kabob was quite delicious.
Kozde Kuzu

Kabob Dinner
I'm not too keen on tasting food outside of my comfort zone but I'm glad I did. Spending only a few hours in Istanbul before my flight to Nepal was my 2018 YOLO moment.
Nepal
Nepal, home to the well-known Himalayas, is a developing country with an abundance of opportunities to see the Himalayan peaks, walking trails, and diverse flora and fauna.
You'll be amazed how the country flows without things like traffic lights and signs. It's quite scary.
Specifically, Nepal is home to over 123 ethnic groups that serve different parts of the land and seek to share their culture, language and country with visitors.
The Dalit community also known in Nepal as the "untouchables" are villages of people who are discriminated against because of their religion, culture, history, social and economic background. While they make up 13% of the population, their eco-friendly lifestyle and practices cater to the preservation of their heritage, environment and resources.
To get a glimpse of life in the village, the Dalits host visitors in "homestays," which is quite a humbling experience.
As part of a FAM trip, I stayed overnight with one of the families. I observed and learned about their gardening and cooking techniques, conservation and sustainable habits, and family life.
The youngest son and I played Uno as we waited for dinner. He won the very first game. Very humbling since I proclaimed to be a veteran.
Surrounded by nothing but nature, animals, and people, I appreciated the families' hospitality and willingness to teach me about their home.
Still speechless by the experience in Nepal, I hope everyone gets to travel to and connect with this wonderful country.
So What's My Answer?
The short answer is No, I don't get tired of traveling so much. On each of my trips this past year, I learned something.
Reflection of each individual adventure (the long anser) taught me either about myself or about the world.
Travel is a natural part of life. Lessons are everywhere and sometimes you have to move in order to learn what they are.
Through your travels, you can:
Connect with friends, family, and other people
Overcome a past challenge or obstacle
Build community
Have fun
Gain freedom and peace
Desert your comfort zone
Crush stereotypes of other people and places
I challenge you to self-reflect and really process your trips this break and see what you uncover.
And, the next time someone asks you that question, you could either give them the short, very boring answer, or the long narrative with stories, pictures, and learning moments.
Maybe then they'll realize that travel is more than a physical commitment, but also an emotional and mental one. 
Comments