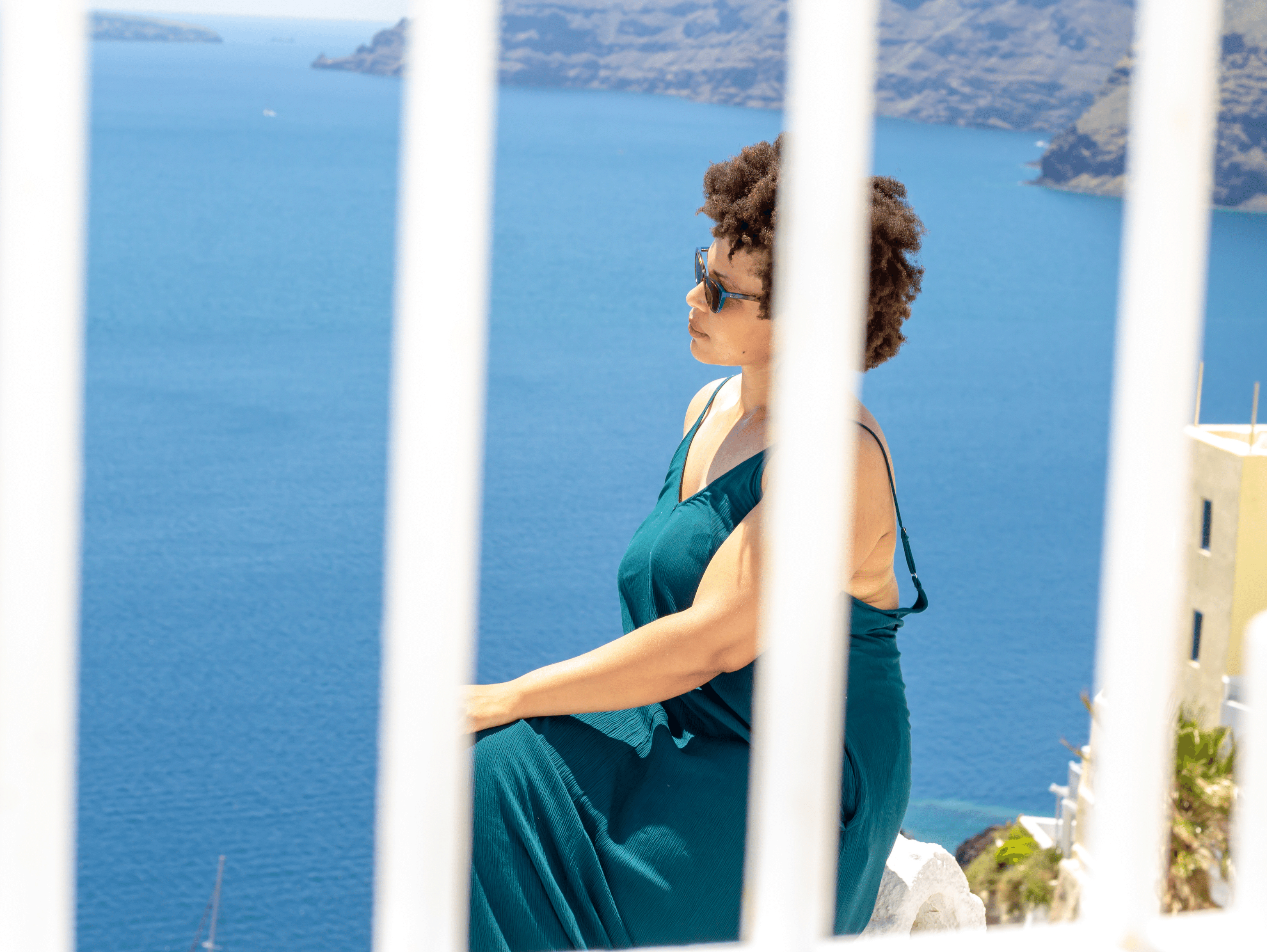 This post contains affiliate links. If you use these links to buy something we may earn a commission. Thanks.
Have you ever sat on the side of your bed wondering where your life is headed?
Leading up to my birthday, I had been experiencing some weird feelings around my chest area. Googling "heart attack symptoms" late at night was not on my 2020 or on my 2021 to-do list. We didn't expect a pandemic to be on that list either. But here we are. 
The typical signs and symptoms pop up. "Abnormal Heartbeat, Anxiety, Tightness in Chest."
Some signs applied to me and others did not.
On top of that, my days had been filled with frustration, anger, sadness around blackness in America. It hasn't been easy coping with death upon death while in an isolated environment.
There would be days I would sit and stare into space, have no interest in entertainment, and disconnect from social media.
After months of remote working, isolation, health-scares, and COVID-19, I finally took a self-love getaway. Yes, even during COVID-19. Travel is Therapeutic. And, I don't have any shame.
Why did I need it?
"Fuck!"
This word has so much meaning. It perfectly described my feelings the last five or six months reflecting the disgusting behavior by the U.S. government, police brutality, COVID-19 numbers, insensitive content/memes I've seen while on social media, and the bs happening at work.
I'm a sensitive person, who is affected by negative and sad stories. They tend to stick with me beyond when I read or hear them. Even in my time off social media is affected.
The tightness in my chest and the buildup of anxiety has been plotting against me for a while. Instead, I decided to hide in my cave of doubt, frustration, anger, and sadness for months.
I really had no place to go, especially since working from home.
Am I grateful that I can safely remain home and work? Hell yeah.
I'm also acknowledging the fact that mixing business AND pleasure under my roof hasn't been golden. And, it sure hasn't glittered.
So, to answer the question, "Why did I need a getaway?"
A mental break is the simplest answer I can provide.
Oh, and it was about time.
Where did I choose to go?
Note: As an Airbnb Associate, I earn if you book through the links below.
My birthday fell on a Sunday. Like most people this year, I had to reconsider my birthday plans. So, I planned to do nothing. Buuuut I didn't want to squander such a beautiful day on pitying myself and my mood.
Instead, I hopped on the Airbnb app and searched for availability around my area. I looked at Asheville, Greenville, Nashville, Charleston, and Augusta.
I ultimately didn't choose where to go. Airbnb did. Here's how.
I knew I wanted to book a pet-friendly place near lots of trees and nature not too far from a major city.
I also didn't want to drive more than a couple of hours from my apartment, but I also wanted a place from which I could mentally disconnect.
After browsing for an hour, I happen upon a quaint home in Augusta, GA. It was the home's feature that sealed the deal — the bathtub.
Yep. A bathtub.
Once I confirmed my reservation, I took the day to pack, clean, and organize my plans.
I was about to go on a self-love getaway.
What did I do?
Do you remember the singer, Tweet? She sang her most famous song, "Oops (oh my)" with Missy Elliot.
If you do, then you know exactly what I'm about to talk about. This post will remain PG-13 so don't worry. Ha!
If you don't know the song or singer, then take a moment to watch the following video.
Because if you learn anything from this video, then you know the singer isn't talking about self-pleasure but rather self-love. Mmhmm…
So, how exactly did I engage in self-love during my getaway?
I reconnected with my body using four out of the five senses.
Hear:
As I stood at the sink with the bubble bath going and candle light flickering, I pondered over the right playlist to set the mood. I had to get this right because I was trying to impress myself. Or, at least my mind, body, and soul that had been disconnected for months.
I browsed through several Youtube playlists, but they didn't fit the mood. Either the tempo too fast or the words didn't match the moment.
Then, I decided to re-download Spotify, while I checked on the temperature of my bubble bath. Not too hot, and not too cold. But, just right. (Or, so I thought — read below)
Finally, I found a 90s R&B playlist that had loads of slow jams that included artists like Brandy, Monica, Jon B, and more.
It's something about those 90s artists.
This is all I did. Eat, Relax, Watch TV, Bath and repeat.
Smell:
Thanks to my best friend, Nelda, who suggested taking a candle for my self-love getaway.
I lit my candle and placed it on the floor. It danced about as the music was playing.
One of the benefits of having a candle, the pleasant aroma that filled the bathroom. To breathe deeply and relieve the tension in my chest and body.
Before hopping into my long-awaited bath, I switched off the lights. I*n my Kevin Hart's voice*, it was about to go down.
Touch:
I eased my foot into the water like a pool or beach-goer would dipping their toes in to get the feel for the water temperature. Unlike the pool or beach, my foot submerged into a tub of what felt like lava. Without hesitation I switched on the cold water and watched it splash into the bath turning the water from lava-like to a warm, sudsy spa. When the water became more bearable, I slowly dunked my entire body down allowing the water to cover my legs and mid-torso.
That bathtub played a significant part in choosing that specific Airbnb. It had been ages since I soaked in the bathtub. And, finally, I could give my body the love and attention it needed.
Enveloped in the warmth filled with Dr. Teal's Eucalyptus and Spearmint soap, a teaspoon of rosemary oil, and a helluva lot of Epsom salt, my skin relaxed and soaked up these nutrients.
I wanted my skin and spirit to glow.
Ten minutes into my self-love bath, I caressed my arms. Inch-by-inch, I introduced the aromatic water to every bump, pore, and fine hair on my body.
Sight:
The dimly lit room kept my thoughts focused on me.
You know how it is when you're looking around a room and get distracted by the things you see. Having such a dim room, I focused on the only thing I could see at the moment: my thoughts.
How do I feel now?
This trip wasn't about reliving the travel life that COVID snatched away from us. Don't get it twisted!
This was more about my mental capacity and my ability to take control over MY feelings. So, it's amazing how much difference a new scenery could make.
Now that I've been back for a couple of weeks I think the greatest benefit has been that I feel more purposeful, focused, and clear-headed.
I connected to a piece of me that was forgotten and hidden away for months.
All I can think about now is: "I like the me that feels free and to just be."
Also, my mind is just more clear.
What will you do with a clearer headspace and rejuvenated purpose?
If I may make a suggestion . . .you could find a way to get to a more freer and focused you (details right here), or you can get started with my Reset & Refocus mini-trainings–90 minutes dedicated to reframing your mindset so that you can operate in your boldness and achieve your goals (details here!).
So . . . if the travel part applies to you . . . and you're desperate for a getaway, here's your sign.
Since we're limited in where we can go, your bucket list location might not be an option right now. Just remember, however, that self care and self-love are the grand prize.
In November, I will share how to plan a safe weekend getaway during COVID-19. Click here if you want to be immediately notified.
Comments