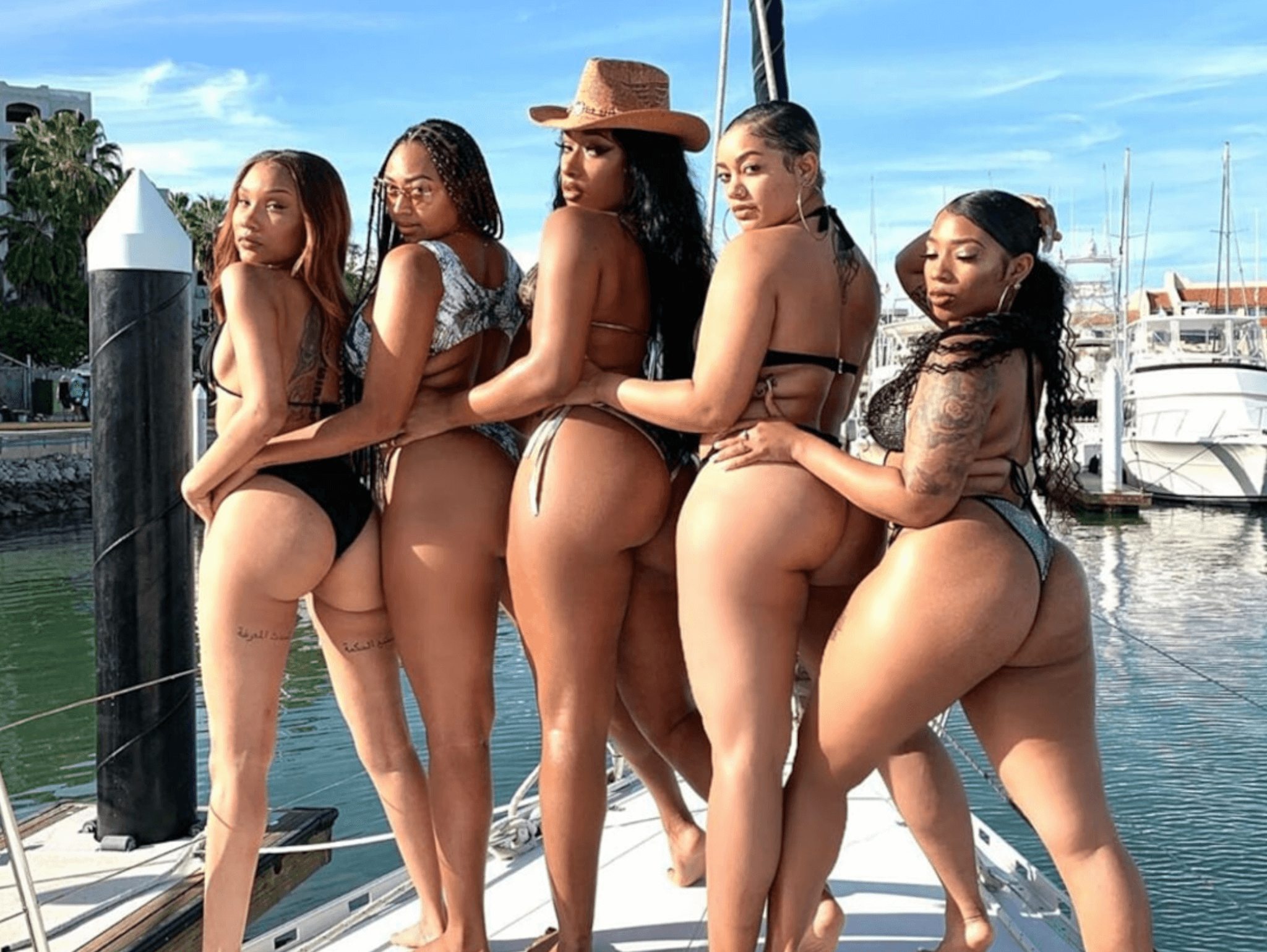 Who is Megan Thee Stallion?
If you've never heard of Megan Thee Stallion, then where have you been the past year??! She is a hottie with a body and vibranium knees. Translation: She is a rapper from Houston, who has taken the world by storm with her hits "Hot Girl Summer," "Ride or Die.," and many more. I warn you though, her lyrics are rated F for Fiyah, and it's certainly not for those under the age of 18. Lol!
But, most importantly, Megan Thee Stallion showed up and showed out during her vacation in Cabo, Mexico at the beginning of the new year. If you ever have any doubts as to how to plan a vacation or find yourself fearful of traveling overseas, then you're in the right place. Megan, my darling, is exactly who you need to embody this year while making YOUR travel plans.
Beyond traveling, Megan is the celebrity of the year for her energy, free spirit, AND attitude. Who wouldn't want a splash of these characteristics while seeing the world this year??
What's a Case Study?
Before we get started on how to actually exude your inner Megan Thee Stallion, let's discuss what's a case study and its purpose.
A traditional case study is an in-depth investigation exploring a phenomenon, situation, person, group, or event. Typically, you'll find case studies exploring the development of a person who've experienced a company's service or product. Within that investigation, the researcher does the following:
Define a problem
Determine a solution
Implement it
Reap the benefits
But, today, we are transforming this idea of a case study and digging into how you can get from scared as shit to travel to traveling like Megan Thee Stallion in these vacation streets.
Disclaimer: You do NOT have to be a celebrity, have millions, or even be Megan to have a great time on vacation. My purpose is to show you how you can exude her energy to plan your own vacation in 2020.
Now, let's get to the study.
My case study: How to plan a vacation by exuding Megan Thee Stallion
So, what is your problem?
You really want to travel this year but you're a little scared.
You want to experience places and new things but the people around you do not.
You feel like such a "punk" for being afraid to travel, especially alone.
Solution: Exude your inner Megan Thee Stallion
Did you see Megan's vacation photos? If not, browse her Instagram profile for more splash and a**. By looking at her photos, you instantly want to see more about her vacation in Mexico. I think of three words when admiring Megan Thee Stallion's photos: Fun AF, Carefree, and Rejuvenating. What are your three words regarding Megan Thee Stallion's vacation in Mexico? [Leave them in the comments below].
Clear your mind of any outside mess and just have fun
Every now and then, it's ok to take a vacation for your mental, emotional, and physical health. No matter what, work will always be there, you and your health won't. As you can see in the Instagram video below, Megan and her friends are having a blast. Think about clearing your mind, body, and soul of some anxiety and stress, by simply letting go and enjoying some time away from work.
If Megan can do it, so can you.
Find excursions and activities that you've never done before
I bet money that you have at least one item on your bucket list that you've never done before. Like Megan, find an activity or excursion in your destination as a way to knock something off of your list. Is it scary? Yes. Is it doable? Hell yes. So, what are you waiting for?
Not sure where to start? Plan your next steps with this travel planning guide.
Staying motivated even while traveling
Exercising isn't the only way to stay motivated while traveling. In the video below, Megan adds extra motivation for her friend to exercise during their friendcation, BUT there's more to staying motivated than you think. If you're off on your very first trip around the world, it's easy to get caught up in the fear of missing out or "I-need-to-see-everything-before-I-leave" syndrome. This will be exhausting. And, I'm telling you that taking the morning or afternoon off is ok!
Look at that beautiful view. The water, the sand, the sun. You know Megan paid some good money for that view, so why not take advantage by enjoying the space too. I know I would. How about you?
Implement it: Now, How to Actually Exude Your Inner Megan Thee Stallion?
Get your mind right
Think about this: How do you normally prepare: For a job interview? To meet your significant other's family? Or, for an important event?
You rehearse and practice before doing any of the above, right? Practice makes perfect, the saying goes. And practice also builds your confidence.
The more you do travel, the more confident you are at navigating travel like a pro, or in this case, like Megan.
Here are resources and guides to "Get Your Mind Right." Read these two posts before you start planning your vacation.
Start Small and Start Local
Every traveler started somewhere. If you follow some on social media, you're most likely following them after they've been traveling for some time. So, what does that mean? That just like them, you just have to start and here's how:
Go to the movies or a restaurant alone or with a small group of friends, or to local events – Find a way to experience your local community alone. If you ever want to break out and travel with a group or solo, then imitate that feeling and adventure right at home. Search for local events to attend or go to the movies alone. Get comfortable with making decisions as if you were traveling elsewhere. Like I said above, the more you practice, the more confident you'll become.
Take a day trip to a nearby city – Now that you've attended some local events alone and gotten comfortable with going out in your own city, now it's time to take a day trip to a nearby city. I would suggest going to a city within an hour or two. It's far enough where you can feel like you're a tourist, but close enough to get home and to safety in a matter of a couple of hours. If you especially feel uncomfortable, at least you haven't spent too much money on an adventure that doesn't feel right. Start small.
Plan a weekend trip a few hours away – Lastly, you have now achieved a level of confidence. Now, like Megan, you're ready to move on to something further from home. You can take an international trip or plan a weekend getaway a few hours from home. As you grow as a traveler, you'll expand your territory in no time.
Take advantage of group trips
If going solo scares the sh*t out of you, then don't force the idea. Find a group that meets all of your travel needs. Some of the most amazing groups can be found on social media. Some of my favorites are:
Comments